Uptown Dental Team
Meet Our Albert Lea Dental Staff

Immediately upon entering our Uptown Dental Office you will notice how inviting and friendly our staff is. Our hand-picked staff looks forward to helping each patient achieve and keep the best smile and dental health possible. We strive to provide each individual patient a comfortable, relaxing, and positive experience. We build trust with our patients as they feel personally pampered and cared for.                                                                                                                         
Professionals Who Care.
Our warm, friendly, caring, and knowledgeable staff offer both professional expertise and personal care. Each patient is unique and our staff takes the time to get to know you and your individual needs. Learn more about each staff member below.
Registered Dental Hygienists- R.D.H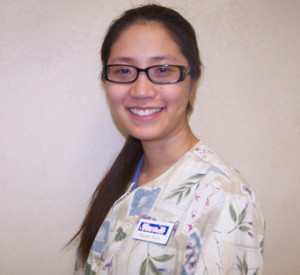 Nguyen Pham, R.D.H.
Nguyen Pham has been a hygienist for more than three years. She graduated in 2010 with a bachelor degree in Dental Hygiene at the University of Minnesota. Nguyen enjoys getting to know her patients on a personal level and taking care of their oral health. When she's not in the office Nguyen enjoys spending time with friends and family. Her favorite outdoor activity is fishing.
Beth Phillips, BS, R.D.H.
"Beth's career in Dental Hygiene started in 1981.  She graduated from MSU – Mankato with a B.S. degree in Health Science and Dental Hygiene.  Beth enjoys visiting with patients and making them comfortable in the dental chair.  Her priority is educating patients in dental oral health for the patients' optimum health.  In the spare time, she likes to spend time with her family, friends, and involve with activities in church and traveling."
Registered Dental Assistants- R.D.A
Meka Simmons, R.D.A.
Meka graduated from ALHS in 1955, attended RCC with 96 credits toward an AA degree, graduated from RCTC in 1999 as a CRDA and has been working at Uptown Dental since then.
Her favorite procedure to perform is in-office teeth whitening to include take home custom trays, making mouth guards and orthodontic retainers. Her favorite procedures to assist with are Fast Braces, Clear Correct, root canals, oral surgery, and implants.
Her hobbies include traveling, reading, kayaking, hiking, camping and taking her dog for walks. She enjoys spending time with her son, husband, nieces, and other families and friends.
Missy Bailey, Dental Assistant.
Missy has been working in the dental field for 15 years.  She graduated from Rochester Community and Techincal College where she completed the Dental Assistant Program. She enjoys educating and helping patients with dental care.  She is married and has one daughter.  She also enjoys spending time with her family and friends, and outdoor activities such as flower gardening.